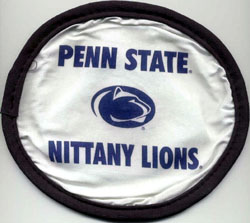 Penn State Flippy Flyer
These frisbees are soft and can be folded to fit into your po cket or jacket. The Penn State flippy flyer is a great tailgate toy. Fun for adults, kids, and dogs. Let your Penn State pride fly!
---
Price: $2.50
Shipping and Handling: $1.50 Please allow 2 weeks for delivery.